Nightclubbing: Fabio and Grooverider's Rage
The late 1980s were a heady time in the UK. A generation was enjoying its own summer of love, opening up to new ways of thinking and partying. Amid the euphoria, some began to evolve the music that soundtracked this cultural and social revolution, seeking ever higher highs. House and techno were blended with hip hop, dub, disco and more to create the hardcore sound. As the '90s rolled in, this fusion of drum machines, breaks, samples and synthesisers splintered even further. One of those directions was jungle, a music that came bursting out in the early '90s with an infectious energy and undeniable impact.
Beyond the warehouse parties, countryside raves and pirate radio that fostered the early days of rave, one club night can be held up as the inception point for the birth of jungle in London. Rage was a weekly Thursday party that opened in October 1988 at Heaven, one of the capital's largest nightclubs, and already home to early acid house parties such as Paul Oakenfold's Spectrum. It was there that two unproven DJs by the name of Fabio and Grooverider hit upon a mix of ideas that proved unstoppable.
Fabio & Grooverider – Resident DJs
Kevin Millins – Promoter
Trevor Fung – Resident DJ
Storm – Metalheadz co-founder
KEVIN MILLINS
Mark Moore, Danny Rampling and myself had been talking about doing a night with a different music policy.
FABIO
Kevin was big in the game. He had done a party called Babylon before Rage. It was amazing. Rage started around the time acid house blew up.
KEVIN MILLINS
I'd done events at Heaven since 1981, including concerts with everyone from Culture Club to Joy Division. I'd been involved in music since the early 1970s, always being at the cutting edge. Rage came at the right time. I can't explain it any other way. It felt right.
TREVOR FUNG
I was working at Heaven on Mondays for a night called Spectrum, with Paul Oakenfold. Paul and I grew up together and I'm the one who got him into DJing. I lived in Ibiza for three summers in 1983, 1984 and 1987, which is when we brought the whole summer of love thing to London.
GROOVERIDER
We started DJing in the warehouse days, playing secret parties. That made us get a little following which led to Rage.
KEVIN MILLINS
Rage started off with Danny Rampling and Mark and then progressed very quickly, ending with Trevor Fung and Colin Faver as the two main men. And then we'd have people come in and guest every week. Heaven had a hell of a track record, so it allowed us to get different people in.
TREVOR FUNG
I helped Kevin book the acts, people from all over the world: America, Italy, Germany… The best known names are the Americans, people like Derrick May
View all , David Morales, Kevin Saunderson and Frankie Knuckles .
FABIO
We knew a girl who had some connection with the club and they wanted some guys to play upstairs, it was called the Star Bar. We didn't think a lot of it.
GROOVERIDER
They were testing us out.
FABIO
John Digweed would warm up for us, he was called JD at the time. Him and a guy called Dominic Spreadlove. And then we'd play 11 till 3 every Thursday.
TREVOR FUNG
The upstairs room held 1,000 people and downstairs 1,200. It was a big club. Richard Branson owned it at the time.
KEVIN MILLINS
I'm a great believer in letting things take their course. Get the people involved you think will shape it right, the way you want it, and then you let it go. Put it all in the mix and see what comes out the other end.
FABIO
We'd play anything that was new. German techno, Belgian techno, early jungle, New York house. We just played the music we liked. We never sat down to plan it. Music came out, we'd buy it. We didn't put labels to anything.
GROOVERIDER
To us, it was all house music at the time. I had no idea it was called techno.
I remember someone telling me we'd never get anywhere if we didn't play vocals. We stuck to our guns.
TREVOR FUNG
After about two years we stopped booking guest DJs because we had all become popular in our own right.
KEVIN MILLINS
By chance, one week Trevor wasn't working and Colin was sick. As a result Fabio and Groove got moved downstairs. And that's how the changeover happened.
FABIO
We were surprised. You gotta remember downstairs was a mainstream house night. We would play a bit more underground. We weren't sure how it would translate. But we did what we do and people loved it and Kevin gave us the job. We felt bad, but then we thought, "Fuck it."
TREVOR FUNG
Fabio and Grooverider had more of an American and European influence, while Colin and I began to play a lot more techno around that time. It worked in our favour too, their audience was growing and ours was smaller as we got more into the techno sound.
STORM
Kemistry and I moved back to London in the late 1980s within a few months of each other. She was raving already, but I hadn't discovered that world yet. She would go out regularly with this crew and they'd heard about these DJs playing at a club called Rage. It was so good that girls were taking their tops off.
GROOVERIDER
When hip house began happening we started seeing more tracks with breakbeats. Hip house was the transition. It's why we're here today.
FABIO
We came from hip hop as well, we were always into the breakbeat element and found a way to play breaks into the sets. We'd play stuff like Fast Eddie Smith and Frankie Bones. We would take bits of the breaks and put them on top of tunes. It was madness. You know what, I don't even know how we did it! In dem days our mixing wasn't that tight…
GROOVERIDER
We'd try to mix stuff together that wasn't really meant to go. Pitch stuff up, madness all over the place.
TREVOR FUNG
I would also do work for labels at the time, and Frankie Bones and Lenny D were two of my favourite acts, we'd booked Frankie for the club a few times. I put them forward to XL Recordings, which is how Frankie got signed to them.
FABIO
We played underground jams, stuff by Frank De Wulf, Joey Beltram, Masters At Work. It was just the energy of it that people got into I think. We noticed people liked this mix of styles, so we did more and more of it.
STORM
The first time we went, we only caught the last hour or so of Grooverider, but it changed our lives. The next week we were there when the doors opened. We'd never found a club with two floors of music that was good.
FABIO
Don't get me wrong, the proper house purists weren't happy about it. I remember Kevin calling us one night and saying a lot of the guys who came down didn't like the music anymore. He didn't care though, he loved our music. It was so new and there was no other club in the world doing this at the time. He was feeling it.
STORM
When Kemistry met Goldie, he had come back from Miami. We told him about what he'd missed, how people from all walks of life and race and classes had been coming together to rave.
FABIO
The crowd was a kind of urban crowd with East London gangsters, street people… They were all into it.
STORM
That was the beauty of the dance, it broke down a lot of barriers. You'd go to Rage and you wouldn't see people getting off with each other, it was more turning to someone and talking about the music. The only contacts were offering people water. It was about the music.
FABIO
The tunes that were more break-y were the ones. B-sides with more underground dubs. We looked for the B-sides always. No A-sides, no vocals.
GROOVERIDER
The radio mix never got played!
FABIO
I remember someone telling me we'd never get anywhere if we didn't play vocals. We stuck to our guns. No awareness. Didn't give a monkeys, played the tunes we liked.
STORM
They were doing something a lot of DJs at the time told them would never work. That mix of styles and approach just wasn't popular at the time. We became obsessed with it. It was a place to get your fix on a Thursday, till 3 AM, so not too late. Fabio and Groove had different styles, so you got it all in one night. We went for a whole year every week, going to work the next day with a massive smile on our face.
GROOVERIDER
"We Are i.e." changed the game. After that, people started to talk about jungle.
FABIO
Ibiza Records, Potential Bad Boy, "Mister Kirk's Nightmare"… There weren't many of these tunes, but we found them.
STORM
The story of jungle plays out in all these tunes. It's quite a beautiful story, the way you would have to get them from different places.
GROOVERIDER
"Go" by Moby was a massive tune also, changed a lot of shit.
FABIO
And then before you knew it, it was a whole movement. I don't even know how that happens. We were getting more and more jungle tunes every week and the movement happened.
STORM
Producers in England, like the Ragga Twins and the whole Reinforced crew, were trying to create what Groove and Fabio were putting in the mix with techno, acid and house all together. It wasn't the best quality, but it didn't matter in the beginning because you had a big sound system to push it on.
KEVIN MILLINS
Sound systems have always been one of my things, and I was responsible for the one at Heaven. I had a particular thing for the Blue Box Turbo Sound, the original system they had at Glastonbury, and which I'd also use at the big raves. The chap who designed them had made a wide throw, short distance system, which was perfect for Heaven. He was a bit of a sound system guru in the 1980s, he was the man everyone wanted to design their systems and he loved the club.
STORM
Rage had an amazing sound system, big bass bins on the floor and mids and tops flying around the balcony. I've not heard many sound systems like it in my whole career. Everything about it was perfect. And the lighting in there… that was the first time we experienced the whole assault on the senses. Each week they'd bring something new.
KEVIN MILLINS
I also looked after all the decor and The Mutoid Waste Company built a giant… I don't know what you'd call it, a metal creature, for the dancefloor of the upstairs bar.
FABIO
It was a big club for a Thursday, too. Special vibes.
GROOVERIDER
How we pulled it off on a Thursday with people going to work Friday… it's insane.
KEVIN MILLINS
Rage was on a Thursday because you do clubs in the week, not the weekend. If you want the creative people, the ones who make things happen, they don't have to wait for the weekend to go out and don't necessarily have to get up in the morning. They're not mainstream people. I've done big rave events on weekends, but with clubs it was always Monday to Thursday when possible. That's where you build stuff from. It's how it works in my opinion. New York was similar at the time, as was Paris.
STORM
It became our religion. If we had to miss a week, there were tears. It shaped a whole way for people to come and listen to the music. Goldie was infected by it like we were. We would come home from Rage and he was like, "Right, I'm gonna make this music, you two are going to play it, we're gonna make a label, we're going to find a club."
FABIO
We had a friend called Danny Jungle. He'd say "jungle" when we played breakbeat tunes and he was the one who would get the crowd shouting "jungle!"
GROOVERIDER
He coined the term.
FABIO
And then it became a thing that before we played jungle tracks people would scream for it. Danny Jungle has a lot to answer for. I think he's a brickie now.
GROOVERIDER
House husband!
FABIO
That's right. House husband. He has no idea what he started.
STORM
We were calling it hardcore at the time. We'd find pirate radio shows that played this music and look for other venues like Rage, which led us to Coventry where Doc Scott was playing. I think what Fabio and Groove did sparked others to try to put on that music. They led the way, alongside people like Bryan Gee, LTJ Bukem and Mickey Finn.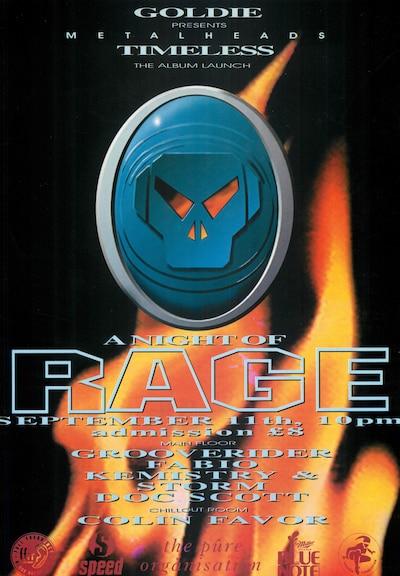 KEVIN MILLINS
People like Goldie came out of Rage. I would say it was an inception point for the idea of jungle in London. I knew something was in the air. At one point, Rage became the weekly meeting point for everyone. That lasted a few years. Everyone connected to the rave scene would come and hang out.
STORM
When I look back at it, that small thing at Rage spawned careers. It's quite magical. They opened your ears and eyes to different music. And that's why I always say drum & bass was a bastardisation of all music. We took from everything and brought it into a new format.
TREVOR FUNG
It's quite funny that this would become the birthplace of drum & bass. Rage was really known for all kinds of music. Jungle came out of it, but we were doing all sorts of things: Italian house, Balearic, American house… Fabio and Groove built on that.
STORM
And all of a sudden more and more people in the UK were making this sound that was being patched together by Groove and Fabio and others. It was such an important and pivotal club, I don't know where we would be without it.
FABIO
We used to get 30 pounds for that, each. And I remember once Kevin said we'd get a rise and gave us fifty quid.
GROOVERIDER
We didn't realise he was getting thousands of people through the door every week. Never thought about it.
The fact people still talk about Rage today is quite astonishing.
FABIO
Tenner on the door, he was cleaning grands a week and we'd get 50 quid. We were well happy.
GROOVERIDER
When people talk about money, they have no idea what we went through.
FABIO
We just wanted to play music.
KEVIN MILLINS
By 1993 Rage had begun to fizzle out. You close a club before it dies. It had its own momentum, a bit of a legend built up around it, and the last thing you want to do is let that die and thus destroy what you created. Closing it while still full means you end up with something people remember and talk about fondly. The effect and impact can be forgotten if you allow it to drift and die.
FABIO
I think it was November. Kevin called and said he didn't want to do it no more. We were gutted, but we were young so we didn't care.
GROOVERIDER
We were doing so much other stuff at this point.
FABIO
We had no idea. Couldn't imagine people would still want to talk about it 22 years later. It was a job to us. The fact people still talk about it today is quite astonishing. Certain Thursdays we couldn't even be arsed to go.